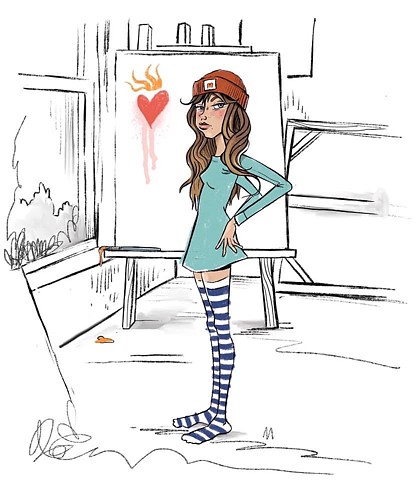 Mandy is a lefty vegetarian artist & illustrator born in the eighties on the Gulf Coast of Florida. She grew up in the Carolinas (Greenville & Winston-Salem, respectively), as an art-obsessed drawer of everything. Mandy graduated cum laude with a BFA at Florida State University while working as an editorial cartoonist for The FSView & Florida Flambeau. She earned her Masters of Fine Art at UNC Greensboro, in Drawing & Painting while serving as the co-director of the Elliott University Center Gallery.
She is the Creative Director for a self development company, Expedition Self, a painter (mainly abstracts & automatic), and an illustrator of books + rock 'n roll:) She is a member of the Society of Children's Book Writers and Illustrators. She loves running, barre, baseball, collecting records, making collages, film, travelling… & reading, esp. Hermann Hesse and Haruki Murakami novels — though Somerset Maugham's 'The Razors Edge' is her favorite.


You can contact her on this site,
or email her here re: projects.